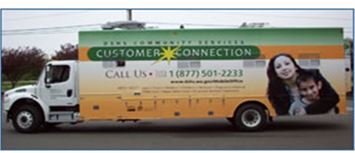 On Friday July 31st  from 3pm to 7pm the Mobile Community Service Office will be at the Friday Farmers Market Everett Mall.
The Department of Social and Health Services has created two 40-foot trucks that transform into functioning offices – each vehicle includes a reception area, interview stations, a sun shade for protection from the elements or extra space, and a mechanical lift as an option for access instead of the stairs.
The Mobile CSO unit is staffed by experienced program specialists who are able to determine eligibility for the cash, food and child care subsidy programs. They process new applications, reviews and changes for active cases, and they issue EBT cards and receive documents. The Mobile CSO specialists also determine eligibility for Medicare Savings Programs and Aged, Blind, or Disabled Medicaid.
Please spread the word to let others know about the Mobile CSO will be here in the Everett Community. click here to find out more.